Speech Day 2021
The annual Speech Day of Queen Elizabeth's Grammar School was held on Thursday 16th December 2021.
As a school we have operated throughout the Covid 19 pandemic with careful consideration, reviewing our risk assessments weekly to ensure the safety of our staff and students. Unfortunately, due to an increase in Covid 19 cases across Derbyshire we made the decision to limit numbers to the school site and as such we are only invited our award winners and our students collecting exam certificates to attend Speech Day 2021 in person, other guests, sponsors, parents/carers, and members of the local community attended virtually via a live stream.
Marcus Caton, Vice Chair of the Local Governing Body, welcomed the reduced audience and Mr Garrity, Headteacher, then introduced his 'overcoming challenge' presentation (see below).
Prize winners were announced by Mr Luke Walker, Head of Sixth Form and prizes were awarded by the guest of honour and former QEGS student Ann Smith. In her inspirational address, Ann talked about her experience of school and her time since leaving QEGS in the world of the military and the various roles she has held including leading many council and community projects.
Photographs taken during the event will be displayed here in the new year.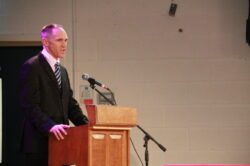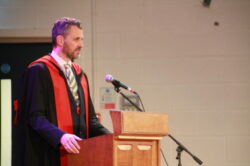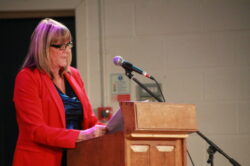 ---
Speech – Mr S Garrity, Headteacher
Welcome everyone to a second, 'slightly different' Speech Day.
I hope that parents, other staff, governors, councillors, members of the community and sponsors of prizes are all joining us from the comfort of their own homes. We miss having you here and we look forward to seeing you very soon.
Here onsite, at school, we have some of our students, some of our staff, one of our governors – our Vice Chair of Governors Marcus Caton and our Trust CEO Anne Martin. We also have our special guest and presenter of prizes and sports colours, Ann Smith – welcome Ann.
Ann, it is a real honour to have you as our guest speaker and I know that as an ex-QEGS student, this means a lot to you and your family.
Ann will be speaking to us a little later, about her time at QEGS and beyond – in the world of the military and the various roles she has held including leading many council and community projects. Such a fantastic journey of experience and breaking down barriers, I know our guests will want to hear your story Ann.
'Overcoming challenges' is our theme for this Speech Day. This year, and possibly for a second year, I think all of us have overcome more challenges than we could ever think to encounter.
Our prize winners embody the determination and motivation needed to overcome a challenge and they should be very proud of what they have achieved. We are celebrating subject success, supporting the community, developing a talent, thinking of others and demonstration of the 4 QEGS values.
QEGS is a school full of opportunities and even though this has been one of our toughest years ever. Our students and staff have overcome many challenges and taken the opportunity to do some wonderful things.
One of this year's highlights has been the opportunity for some of our students to work with professional photographers on a creative, digital, media and art project – this video gives you a taste of what they did:
Other events and things to note from 2021 have been:
Yr8 Camping Trip for almost 100 students to Yorkshire
Guest speakers have included Andy Grant – ex marine and fastest single leg amputee over 10k
Charlotte Faure – Nutritionist and wellbeing coach
Alex Holmes – Anti Bullying advocate speaker
Charity and fundraising events have included Children in Need exceeding all expectations again
Xmas Shoebox appeal for children who may not receive gifts this festive season
We have held onsite Open Evenings, virtual Parents' evenings and made over 10,000 phone calls home – communication has never been more important than it is now
Co-curricular provision has been amazing, more students than ever attending clubs and activities before, during and after school
Sporting success in football
Thanks to the staff who make all of these activities possible and to parents for the parent-taxi service!
Many families (students and staff) have faced some real, personal and health challenges.
I want to thank the students, the staff and the whole community for supporting each other and showing that they really do care. Never before has this community been so close and so valued. I feel honoured to be the headteacher of this school, in this community.
I hope that you all have a fantastic and safe, festive, family break.
Take care. Thank you.
S. Garrity
Headteacher