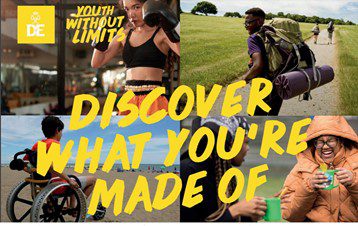 What does the Award consist of?
At Bronze and Silver level, the Award consists of four sections; volunteering, skills, physical activity and the expedition. At Gold, there is an additional residential section to complete too.
These sections encourage students to try new things, give something back to their community and gain new experiences. Students are able to chose from a wide range of activities for each of the sections, allowing them to create a program that is individual to themselves.
The expeditions;
The expedition section is usually one of the highlights for DofE participants! At QEGS, we run our expeditions through an AAP. Students will complete 2 expeditions; one practice and one assessed / qualifying.
At Bronze level, the expedition consists of 2 days walking and 1 night camping. At Silver level the expedition consists of 3 days walking, 2 nights camping. On the first day of the practice expeditions, groups are always accompanied by a qualified instructor who goes through navigation and map skills, as well as basic first aid.
During the expeditions, students will navigate their way along a planned route, carrying all of their equipment, to a campsite. Once at camp they will set up their tents and cook a meal as a group using Trangia stoves. The following days are usually early starts, with a cooked breakfast, ready to set off on their days adventure.
Gold participants are asked to complete their expedition direct through the AAP and can chose from either walking or canoeing.
At QEGS we offer the three levels of the Duke of Edinburgh program; Bronze, Silver and Gold. The Duke of Edinburgh program is open to students from Year 9 upwards, with most starting their journey with Bronze level in Year 9.
If you would like to know what the Duke of Edinburgh program is about, please watch the excellent summary video below from DofE.org
The Duke of Edinburgh program is about so much more than just the expedition and activity sections; it builds self-esteem and confidence, develops essential life skills and attributes required to succeed in life after school – resilience, commitment, communication, team-work. Our students overcome challenges along their Duke of Edinburgh journey and create memories, stories, experiences, and friendships that last a lifetime.
But you don't just have to take my word for it…..
Here is what some of our QEGS Duke of Edinburgh students say about the program………..