Mr Atkins' Coronavirus Blog
We are waking up this morning to a very new reality. The world has changed, as it seems to have done every day so far, and we need to change with it. I know that this will be a very concerning time for many of you, but you need to keep yourself mentally and physically healthy. There are a number of things that you can do to try to accomplish this. Firstly, stay calm – there is no sense in worrying about things that are out of your control. In fact, there is a fantastic book called "7 Years in Tibet" which is about a German Mountaineer called Heinrich Harrer who spent (oddly enough) 7 years in Tibet. The book was made into a film with Brad Pitt but take the time to read the book, it is fantastic. Anyway, Harrer is confused as to why the Dalai Llama is so calm in the face of adversity, he is told by the Dalai Llama that "We have a saying in Tibet: If a problem can be solved there is no use worrying about it. If it can't be solved, worrying will do no good." Sage advice in such times – there is very little you can do other than follow the guidance of the NHS, so just do your best to follow it.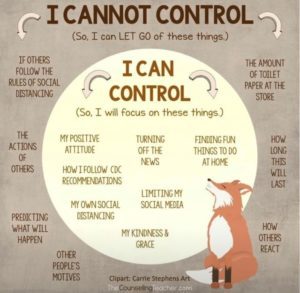 It is worth noting that there are only a few things that are in your control. From looking on Facebook, I came across a few posts from my cousin in the US.
I really liked the post because it is true (apart from the CDC – in the UK, follow the NHS advice) and there are many things that you cannot control, so you can't start worrying about them, it will drive you crazy.
The importance of staying calm and positive is more important than ever, so is the importance of routine. You still need to wake up early in the morning, do not loll about in bed – it will only serve to make you grouchy. You still need to eat at the correct times and don't snack – again, it will become a bad habit and make you irritable. Try your best to keep busy with something that is mentally stimulating; reading, music, art, school work, writing, learning new skills – while it's OK to have some screen time or play computer games, it should form a very limited part of your day. Try to make sure you get enough sleep and you certainly can take the opportunity to turn off notifications and put your phone down. The last thing you want when you are stuck at home is for your phone to repeatedly go, bing…bing…bing…bing…bing…bing…bing…bing…bing…bing…bing…bing… bing… bing…bing…bing…bing…bing… bing…bing…bing…bing…bing…bing bing…bing…bing…bing…bing…bing…bing… bing… bing…bing… bing …bing bing…bing…bing…bing…bing… bing…bing…bing…bing…bing…bing… bing… bing…bing…bing…bing…bing…bing…bing…bing…bing…bing…bing…bing – see, it gets irritating after a while.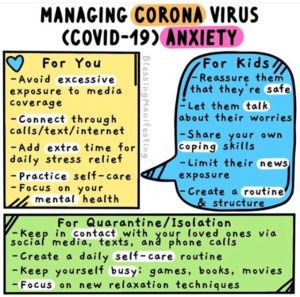 The other post I saw was about managing anxiety. It was aimed at parents, but actually, the advice is good advice anyway. The main thing to take from all of this is that we have to look out for each other and make sure we are looking after ourselves. That's the key thing, we get through this as a group and we come out as strong as we can on the other end.
It's really important the make sure that you stay in touch as best you can. We want to make sure that you are as supported as we can offer so you are in a good position when life returns to a semblance of normality. Life will return to normal, we don't know when, but it will return to normal. Just make sure that, in times like this, we look after each other. There are huge numbers of ways you can support others and, in many ways, just a phone call or a video call would be of immeasurable support to someone in need of contact. Stay in touch with each other. Take as much physical exercise as you can, even if it is in your own living room. There are loads of Les Mills style workouts on YouTube at the moment, fitness instructors putting their content on for free and even hosting live sessions. Encourage each other to stay active, and if you are worried about someone, check on them as best you can.
Like many of people of my generation, we are isolated from our parents; many of you will be isolated from your grandparents at the moment. This means that in order to stay in touch with them, we have to use alternate means of communication – mainly in the form of social media. My mom (forgive me, I have always called her 'mom' as opposed to 'mum' as I spent many of my formative years with my grandpa who was American and always said 'mom' in his Northern New York drawl) is 69 years old and has been since her last birthday. She is not the most technologically savvy person in the world but she does her best. It took me a long time to get her to use Google to find out information, but I rue the day she started Googling medical symptoms. Even though she does not have the best working knowledge of Facebook or WhatsApp, she is still fantastic at 'Hay Day' and has a phenomenal digital farm to which she tends every day. She has even been known to cut off a phone call because "The boat is here to collect my strawberries"; I expect her to cut me off when the Archers comes on at 7pm, but being cut off for farm produce was a new low.
Some of you will have experienced the following conversation with your grandparents. I was trying to get my mom to use WhatsApp video calling, in many ways this was a problem of my own making as I should have warned her I was going to video call her. Having always called her on her mobile phone, she was used to pressing the green button and putting the phone up to her ear. You can probably see where this is going, upon her answering the phone I was greeted with a full screen view of my mother's ear.
"Hello?" she answered, uncertain at the new ring tone that emanated from her phone.
"Hi mom, look at the screen of your phone"
"Hi Matt, it's nice to hear from you"
"I know. Mom, look at the screen of your phone"
"Why does it sound all funny? Is it on speakerphone?"
"Yes, mom. It's on speakerphone; now look at the screen of your phone"
"Ooh!" she exclaimed "I can see you!"
"Yes, it's a video call. I wanted us to be able to use this so you can see the grandchildren"
"I thoughts WhatsApp was just messages!"
"No, it can do calls, too"
"Hello….Hello….Hello? Matthew, are you there? I can't hear you but I can see you"
*mouths – you've pressed mute*
"What? I cant hear you!"
*mouths – YOU'VE PRESSED MUTE*
…and so it continues. It does, however, raised an important point; we need to make sure we can upskill people in the latest technology so they can stay in touch, especially in these turbulent times. I remember teaching my Nan how to set the timer on the video recorder (how many of you even know what a video recorder is) so she could record Emmerdale Farm on ITV. It is worth remembering that the world of Snapchat and Facebook and Fortnite are beyond many of our family members. The world has moved very quickly, we are all getting used to Microsoft Teams to do work and contact students; but there are key groups of people who are in danger of missing out. It's not just about missing out on new technology but also about lessons we all know very well, but not everyone in our family does. Lessons such as how to spot fake news, how to spot a phishing scam, how to keep safe online. Of course, this doesn't apply to every single person, there are many members of my family who are perfectly capable of using online features and smartphones without any problem. However, for those of them that are not, I want to make sure that I can do my best to teach them how to use this tech so they can stay in touch and not feel so isolated. One day I hope my children and potentially my grandchildren will do the same for me.
Stay safe and look after each other, I'll write another one on Friday.
There are a few new thing's I appear to have noticed
As we start to get into the swing of the lockdown, it appears that we are noticing more and more about the small world in which we now inhabit. Many of these are things that we had absolutely not noticed before. Many of them are welcome, some less so. In our living room area we have set up a makeshift office for my wife, children, and myself to work from. The children are busy doing work from their school and it's lovely that they ask for help when then need it…or so I thought. Many of us have taken to video conferencing to stay in touch and, like the gentleman on BBC whose children invaded his interview, the same thing happens. Trying to have serious conversations about serious matters is made slightly more difficult when my 5 year old son says
"Daddy, who's that?"
Mute microphone "That's Daddy's boss" unmute microphone "So, as I was saying, we need to have a consistent response to Covid 19 and the best way…"
"Daddy, Éowyn hit me with some LEGO"
Mute microphone "OK, just give Daddy a second" Unmute microphone….
But many people are in exactly the same position and there is very little we can do about it, we just have to get used to our new normal for the time being. There are, however, huge numbers of positives that we have all probably noticed. Have you taken the time to look up over the last few days? The last time I saw the skies so clear was during the eruption of Eyjafjallajökull in 2010 when all planes were grounded because of ash clouds. It's almost a strange sight for us, but for millions of years, humans have looked at the sky and seen birds, stars, and clouds; not the contrails and blinking lights of planes but now when we look up it seems strange not to see a plane.
Also, how nice is it to notice the sound of birds now there is less traffic on the road to create any noise. We spent some time yesterday following up on a lesson we had with the children based on Maddie Moate and her YouTube video on bird identification. It was really nice to get the children to connect with nature.
There are also things that we notice about ourselves. I don't know about you but I have noticed how much I absolutely hate the feeling of being trapped at home. Now, I'm not one for going out very much anyway, but I've always had the option to go out previously; now that option has been taken away (within reason) I am really finding it a challenge, and the frustration grows. That's when you notice other things… like breathing. I never realised how loud some people breathe, and once you notice it gets very hard to ignore it. Happily sat completing a paperwork exercise to go to Derbyshire County Council and the person behind me in our makeshift office (who will remain nameless but it's neither of my children) is breathing whilst doing their own work. In, out, in, out, in, out, IN, OUT, IN OUT. Like the sound of a jet engine and giving me the feeling that the air is literally being sucked out of the whole room. This is added too by the occasional sigh of in depth thought, which after an hour is reminiscent of a steam engine venting when it reaches a station. Not to mention the way people tap on their keyboard, surely there must be holes being punched into the table with the sheer violence to which the keys are struck. Will it never end!
Of course, I'm the same – I'm as irritating, and as frustrating, and as noisy as anyone else. So the lesson in patience, plain and simple. We have to be as patient as we possibly can with each other. We are all in the same situation and nobody is doing anything to irritate anyone else on purpose (well, I do occasionally but the less said about that the better). It means that, again, we have to look out for each other. We all need supporting in our own way, we all need to be patient with each other and make sure we are taking everything that others do in the context of what we are all going through. We will all have moments of frustration and irritation but it should serve to wake us up to the positive things that we never noticed before. Clear skies, bird song, the little idiosyncrasies of our family members that make them who they are; all of these things are worth noticing. It is worth taking the opportunity to really pay attention to each other and to learn about each other.
Stay in touch with each other, stay patient, stay calm, and I'll be back on Tuesday!