I arrived at QEGS as a Newly Qualified Teacher in July 2008 having completed my PGCE at Nottingham University. This September marks my fourteenth year as a teacher of English and I am as passionate about education as I was when I first started. Over the years I have been lucky enough to have experience in a variety of roles. I began as Second in Charge in the English department and then added Whole School Literacy Coordinator to my remit. In recent years I have worked as Leader of English Language Curriculum and Faculty Leader of Business and Enterprise. In all of these roles I have thrived in working with a team of enthusiastic and driven staff. I have been really grateful for the opportunities I have had including becoming a Specialist Leader of Education and Lead Practitioner. I am currently in the role of Deputy Headteacher responsible for pastoral and safeguarding and am enjoying the new challenges this is offering.
My family are from Birmingham and I lived there as a child before I went to university. I attended King Edward VI Grammar School for Girls before completing an English Literature degree from the University of Aberystwyth. I thoroughly enjoyed living by the sea in contrast to city life!
Becoming a teacher of English at QEGS was my first teaching role but certainly not my first job! My parents instilled a very good work ethic in me and I have had a variety of jobs from the age of 16. I started as a Sales Assistant in a newsagent in my hometown of Birmingham and have worked as bar staff in my Students' Union, Sales Assistant at Boots and a Check-In Operator at Birmingham Airport. These jobs helped financially support me through my studies and taught me many of the skills I use in my current role.
My husband and I have two young children. As a family we thoroughly enjoy travelling and have visited Asia, America and some of Europe. I hope to take my children to see lots of world and experience some of the things we have. I enjoy reading, going to the theatre and spending time with family and friends. Before I met my husband, sport didn't really play a huge part in my life. As he is an avid lover of rugby and plays Outside Centre for Melbourne RFC, he has finally cajoled me into being a spectator and even understanding some of the rules.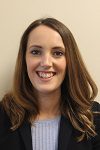 Mrs L Betty 
Deputy Headteacher