I have spent much of my working life at QEGS, in fact more years than I care to mention. Starting as Head of Religious Studies I added the PSHE and Citizenship departments to my role and, at one time, became responsible for our gifted and talented programme. In more recent years I was an Associate Leader and had specific responsibility for our school's approach to character development and the spiritual, moral, social, and cultural dimensions. As an Assistant Headteacher I still lead on these area of school life as well as the day-to-day life of the school, student and staff wellbeing and the co-curricular.
When we introduced character education to QEGS it was quite a new idea and I was really pleased to see us gain national recognition for this from both the Department for Education and a range of other academic institutions. Our character vision of Questioning, Exploring, Giving and Succeeding is at the heart of my role, whether working with students on their involvement in the co-curricular life or considering their career options. It is also central to my work with staff, as a having great staff helps us to provide great education for great students.
Before joining QEGS I taught in Ripley, Derbyshire having trained to teach in Kent, but this was not the first time I had worked with young people. One of my first jobs was as a nanny in Boston, New England and a couple of years later I returned to the USA as a residential counselor working with a range of children from difficult backgrounds in a Centre near St. Louis, Illinois. Both between and before these I spent some time working in catering, starting as a hotel barman and ending as an assistant manager of a lovely hotel in Kent. Perhaps my favourite job was as Head Barman for The Island Hotel on Tresco in the Scilly Isles, miles of white sand and perfect for windsurfing.
My own education is rather varied, having attended school in Buckinghamshire I boarded in Cornwall and then studied for my first two degrees at The University of Kent [a BA and an MA in Social Anthropology]. I received my PGCE from Christchurch College, Canterbury and an MSc in Leadership & Management from Sheffield Hallam University. More recently I was seconded to The University of Birmingham to lead a research project on behalf of the DfE for The Jubilee Centre for Character & Virtues.
Outside of school I am still heavily involved in student personal development and have delivered training for teachers in several countries, written widely on the subject, and I edit a national character education magazine. I am really proud of my life at QEGS and believe our school offers all students an excellent education both in and out of lessons.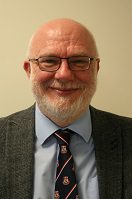 Mr M Bawden 
Assistant Headteacher