I am very proud to have been given the opportunity to join the team at Queen Elizabeth's Grammar School from January 2023. Living in Derbyshire with my wife and two children we love walking at weekends around Carsington water, Ilam park, Cromford and Matlock. I, like some other staff at QEGS have enjoyed travelling in the past and have an interest in a wide range of sports.
As deputy headteacher I look forward to supporting and developing further an already fantastic school with a rich history and wonderful staff, student and local community.
To date, I have been teaching for almost 20 years. The time has flown by and I am as enthused by the achievements of students in and away from the classroom as I have ever been.
Before completing a PGCE in Engineering & Design Technology and entering my first teaching role, I had studied a Bachelor of Science degree in Industrial Design at Loughborough University. While teaching at my first school I completed an MA in Education at Derby University and have since completed NPQH. I have enjoyed teaching across the full age range in secondary comprehensives over the last two decades and have had opportunities to teach not only engineering and DT, but also maths, science and computing while remaining an exam board moderator for my specialism.
My love of learning and the enjoyment I get from seeing students gain the knowledge and understanding they need through years 7-13 and beyond continues. As deputy head I lead on pastoral structures, safeguarding as well as attendance and aim to work with all assistant head teachers to support the development of the school as a whole.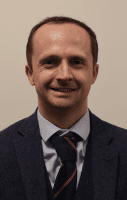 Mr J Amps 
Deputy Headteacher